North Kathana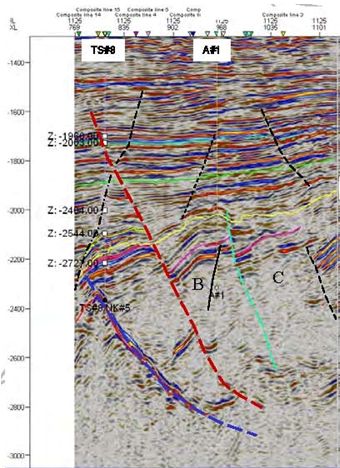 The North Kathana Block covers an area of 12.20 km²   and it is located north of the Kathana Field and close to the Cambay Field, about 15km northeast of Khambhat town. The Field was discovered in July 1975 by ONGC with the North Kathana-1 well. The well was shut in, following the initial production test. To date, four wells have been drilled on the field. North Kathana-2 was completed in 1976, but was abandoned as it produced water and North Kathana- 3 was drilled in 1982, but the open hole DST was not encouraging.
In 2007 GNRL Oil & Gas Ltd.had added two New Wells – NK-4 and NK-5, which established immense potential of Deccan Trap and Olpad formation.This well's result has opened new hydrocarbon bearing layers to probe and prove. As of September 2013, cumulative production from the field was 76000 stb of oil primarily from EP-IV layers out of proved in-place reserves of 15.17 MMstb of Oil.
The North Kathana Block is covered by a 3D seismic survey that was acquired on behalf of GSPC by GT  in 2005. The survey covering the whole block area is part of a 3D survey that covers 151.07 km², which is in general of good quality.
| | | | | |
| --- | --- | --- | --- | --- |
| No. | Name of Block | Participating Interest | Operator | Joint Venture Partners |
| 1. | Kanawara | 30% | GNRL Oil & Gas Ltd. | GSPC(70%) |
| 2. | North Kathana | 100% | GNRL Oil & Gas Ltd. | NA |
| 3. | Allora | 100% | GNRL Oil & Gas Ltd. | NA |
| 4. | Dholasan | 100% | GNRL Oil & Gas Ltd. | NA |
| 5. | North Balol | 30% | HOEC | GSPC(45%) HOEC(25%) |
| 6. | Unawa | 100% | GNRL Oil & Gas Ltd. | NA |